Up for a bike ride? How about a really long bike ride?
If so, you might want to check out circumnavigating the Chesapeake Bay, like this group of cyclists did recently. The trip, as outlined in this pilotonline.com article, took them to 13 lighthouses, four ferry boats, across two bridges that didn't allow cyclists, on the Chesapeake Bay Bridge-Tunnel and in many a small town. Crab cakes were a common fuel (yum!).
The group made a "clockwise circle around the bay, traveling west and north initially, through Surry and Jamestown and Gloucester, before reaching Maryland. They crossed the Bay Bridge and headed south down the Eastern Shore, stopping at their lone hotel in St. Michaels before camping on the beaches of Assateague and Chincoteague. They ended the trek at Cape Henry and the Fort Story Lighthouse in Virginia Beach.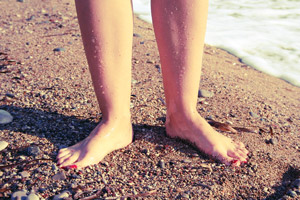 Almost 300 signatures have been gathered on a peition asking for a step-free path to Australia's Bondi Beach.
Says a streetcorner.com.au article:
A step free path way would open up the path way to the elderly, disabled and to prams giving access to one of Sydney's most spectacular coastal walks but many are already questioning whether any more concrete should be laid on the walkway and whether the natural beauty of the walk is in danger of being destroyed by making it, as one local described it, a 'human motorway.'"
Powerful winter waves have caused the closing of two lanes of the ocean side Great Highway in San Fransisco.
Take a look at the placement of this road in the Google Streetview below. It's good to see that this article says longer term solutions are being worked on.

View Larger Map
Related books
Insight City Guide San Francisco (Insight Guides)
You think you're cold? Sea turtles in Florida, used to more tropical conditions, had to be saved due to the shock recent cold caused to their systems.
Related books:
Sea Turtles: A Complete Guide to Their Biology, Behavior, and Conservation
Sea Turtles: An Extraordinary Natural History of Some Uncommon Turtles
The latest redevelopment plans for Qualicum Beach Resort Hotel in British Columbia are coming up for review.
The property has been in distress since a fire damaged part of the property three years ago.
Book links:
Secret Beaches of Southern Vancouver Island: Qualicum to the Malahat
Moon British Columbia (Moon Handbooks)
British Columbia Off the Beaten Path (Off the Beaten Path Series)
Don't leave your wallet on the beach, says this article.
But how do you tip the guy that plants your umbrella then?
A Week at the Beach: 100 Life-Changing Things You Can Do by the Seashore
This was not your typical beach vacation. But when dozens of beached whales are seemingly calling for your help, how can you not help? As one tourist, said:
We've just been digging them up out of the sand and wetting them down. I've never done anything like this before. I've only ever seen it on TV. It's been going really well though. I'm not leaving until I see them swim away."
New Zealand (Eyewitness Travel Guides)
NZ Frenzy, a Travel Guide to New Zealand (North Island) Featuring Waterfalls, Beaches, Hot Springs, and Trails
New Zealand: Bays And Beaches (Pictorial Series – New Zealand)
Vanishing volcanoes: A guide to the landforms and rock formations of Coromandel Peninsula