Copacabana's 4km beach made this list for memorable New Year's spots. It was the only beach destination on the list. Imagine!
Rio de Janeiro (City Guide)
Frommer's Portable Rio de Janeiro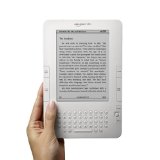 As this column on New Year's resolutions points out, beach reading is one reason ebook readers won't likely take over the old-fashioned kind any time soon.
quote:
Become an eBook convert? I don't think so. I'd rather wait until we have colour E-Ink (so I can read magazines and newspapers, too) and there's a well-designed product that doesn't mind a bit of sand at the beach or a quick dip in the bathtub."
Kindle Wireless Reading Device (6
Ever been to Australia's The Wilderness Coast? Ever even heard it?
Both of those conditions might change. A campaign to attract tourists to the area — which runs from Bermagui to Lakes Entrance in East Gippsland — is receiving $120,000 to develop marketing images and build a website about the area.

View Larger Map
Australia guide book
Book: The Bychan Caves (East Gippsland, Victoria)
As a beach fan, you're likely already wise to the rules of swimming in large bodies of water with currents. But if not you can check out this story for a refresher on sea swimming safety. Luckily, it had a happy ending.
Open Water Swimming
PC6EBBDVDVSG